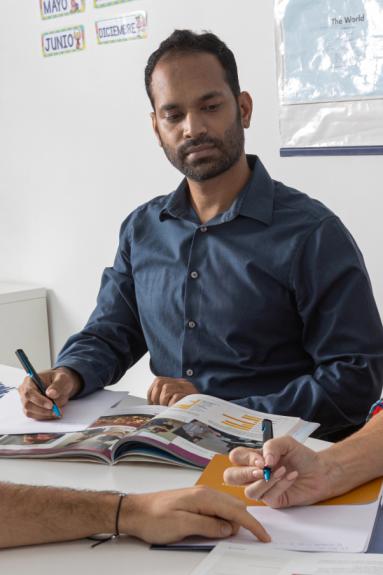 Arabic Course for Spanish Speakers
Do you speak Spanish and you would like to learn Arabic? You can do it now with our Arabic-Spanish speaking teachers that will use Spanish as the vehicular language in class.
The teachers are native Arabs with a high level of Spanish or Spanish with a high level of Arabic.
More details:
Next edition: October 8th - November 29th, 2023
Mode: At the center in the morning or Live Online Sessions in the evening
Timing: 9.00 to 11.00 am or 6.30to 8.30 pm
Type: 30 Hours
Level: You can finish one level in one course
Duration: 7 weeks and a half
Sessions: 2 times a week, 2 hours per session
In this course you will learn:
- Introduction to classical Arabic through reading and writing activities: You will be able to read and write simple sentences.
- Basic conversation situations in dialectal Arabic: You will be able to introduce yourself and have a basic conversation in Arabic.
Download brochure
Admissions
Arabic Private Classes
Learn at your own pace:
Very flexible, you decide the schedule and number of classes.
Packages: 6, 12 or 20 hours. 
Online option or at the institute.
Download brochure