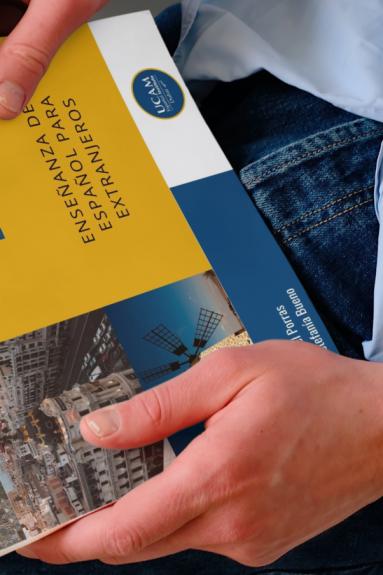 General Introductory Course for the Training of Teachers of Spanish as a Foreign Language
Have you been living abroad for a long time and always considered the possibility of teaching Spanish as a foreign language? Have you ever taught Spanish to a friend or acquaintance and would like to be certified to do so?
You can finally do it – in person, in Dubai – and get certified to teach Spanish as a foreign language.
Further details about the course:
Dates: September 25th to November 30th*, 2023
Mode of study: Live Online sessions or At the center
Length: 60 hours 

40 hours of theoretical classes with practical applications.
10 hours of practical teaching online at our UCAM Español Institute centre. 
10 hours of self-study directed by the trainer.

Classes: 2 times a week, 2 hours per session
Days:

Monday and Wednesday from 9.30 to 11.30 am
Tuesday and Thursday from 6.30 to 8.30 pm

Timetable: Morning at the center or Evening Online
Among other aspects, in this course you will learn:
Learning techniques according to the type of learner and level of education.
How to use and create different resources for Spanish classes.
Types of methodologies and how to use them in the classroom.
Programming and designing lesson plans and teaching sequences.
*End date of classes, the practice teaching hours will be adjusted to the availability of the centre
Download brochure
Admissions
Taller de Didáctica para Clases de Niños
Píldora Educativa para inciarse como Profesor de Español en la Creación de Materiales
¿Estás empezando a dar clases de español para niños y te gustaría tener nuevo métodos e ideas? Este taller puede ser muy interesante para ti.
Más detalles:
Fecha: 27 de abril
Horario: 9.30 am a 1.30 pm
Modalidad: Prensecial en el centro en JLT
Duración: 4 horas
Precio: 465 AED
 En este taller aprenderás, entre otros:
Creación de actividades manipulativas para usar en las primeras clases

Creación de actividades online: presentación diferentes plataformas online donde extraer y generar recursos e ideas

Mecánicas de grupos: organización en el aula para trabajar con grupos homogéneos y heterogéneos

Didáctica y metodologías para niños: psicología  educativa por niveles, aprendizaje cooperativo y gamificación
Download brochure
Admissions